11 Items tagged 'Rooster Teeth'
---
24 May 2018
Red vs. Blue Season 14 Original Soundtrack is now available for pre-order!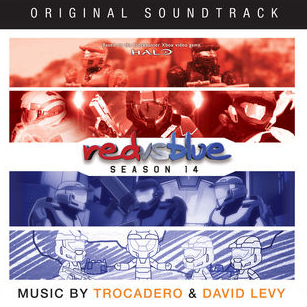 Posted by: nico
---
---
---
05 Jul 2017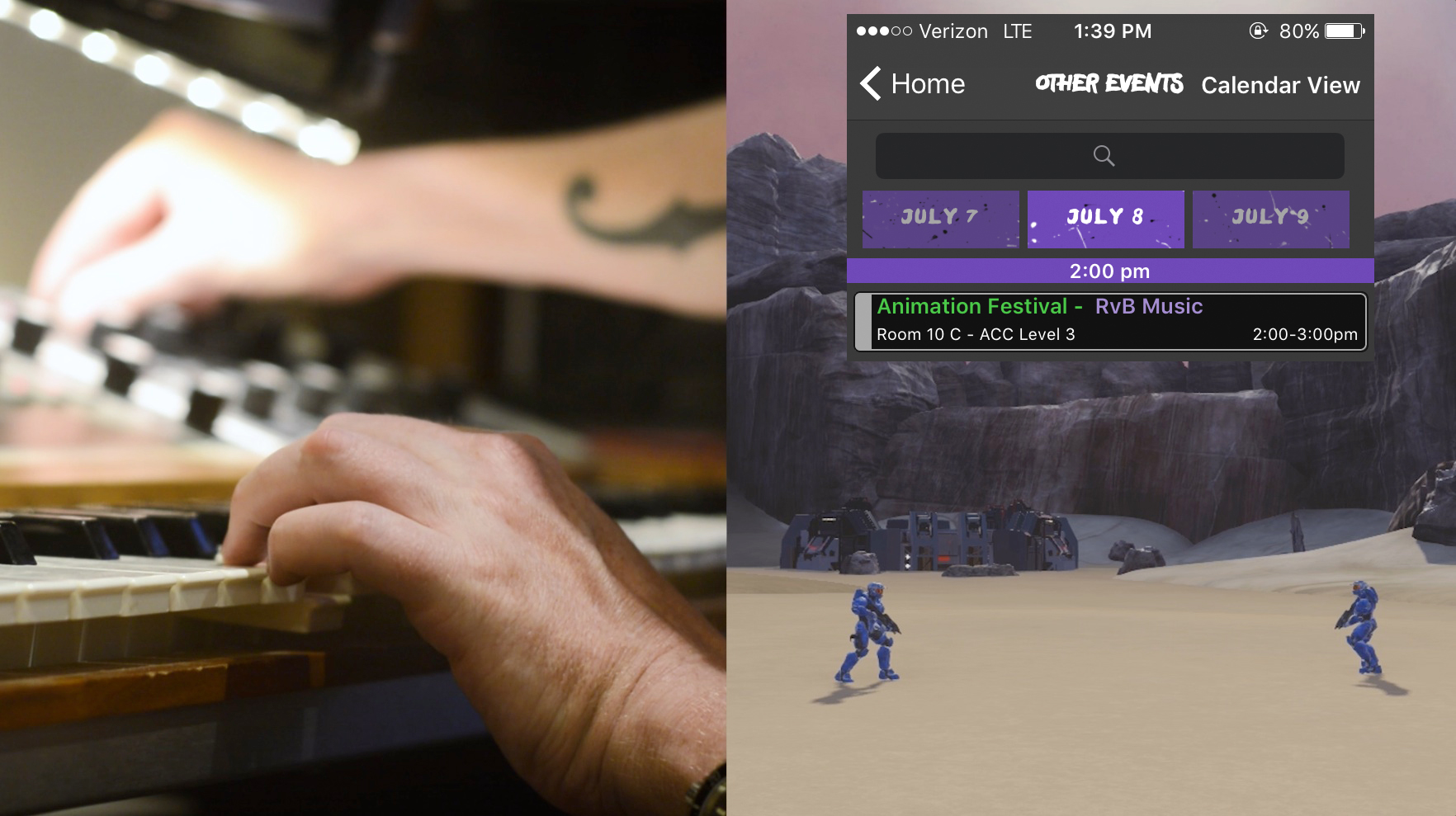 As part of the RTX 2017 Animation Fest, I'm pleased to announce the RvB Music Panel will take place at the Austin Convention Center on Saturday July 8, 2PM in Room 10C.

Please note, this event is NOT listed in the main program -- to access the event from the RTX App, select "other events."
This year's panel is going to be really special: David Levy and I will demonstrate and discuss music we did for RvB, providing insights on how it was written, played, recorded, and arranged, and we'll have some special goodies to show you this year.
We'll be joined by Joe Nicolosi, writer and director of RvB Season 15, to provide a directorial perspective during the Q&A.
This is our sixth year presenting an RvB Music Panel.
We've been getting inquiries if the RvB music panel is happening or not since it's not listed in the main program, so please spread the word, and we'll see you there!
xoxo,
-nico
Posted by: nico
---
---
---
06 Sep 2015
The RvB13 Soundtrack is now available on iTunes & Amazon etc!
We also updated our Music section with this new release.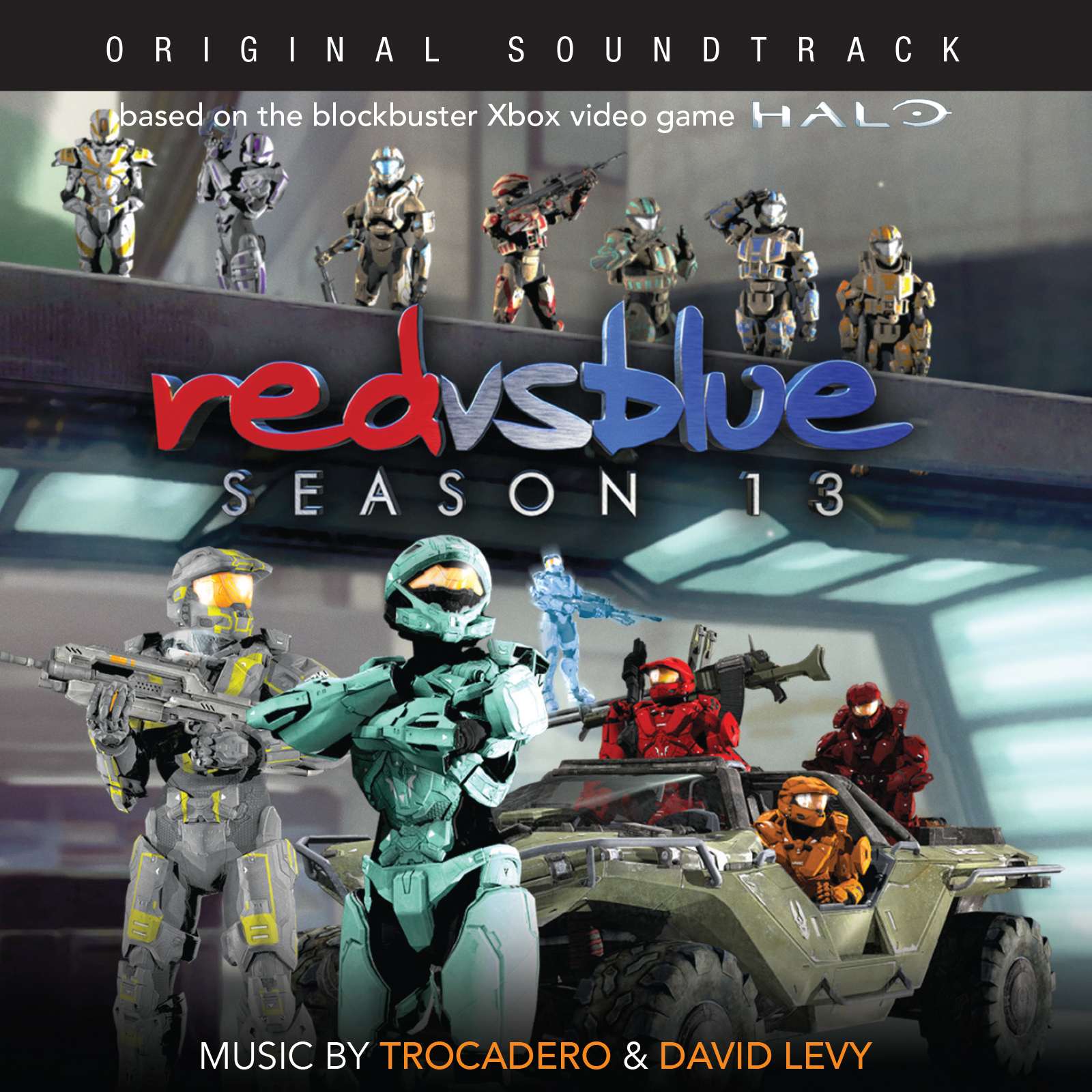 Posted by: nico
---
---
---
25 May 2015
The fine folks at Rooster Teeth are having a music video contest using any Trocadero song! Prizes are VIP tickets to RTX for two, and RT Store cash for the top videos. Click here for details.
Posted by: nico
---
---
---
---
---
---
05 Nov 2014
I never thought Trocadero would be top 40 anything, but here we are at #39 soundtracks on iTunes and #16 mp3 songs on Amazon. Thank you, all of you who purchased our music for your integrity and support. <333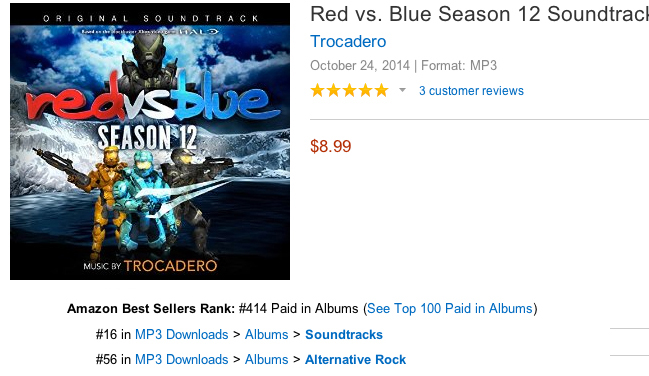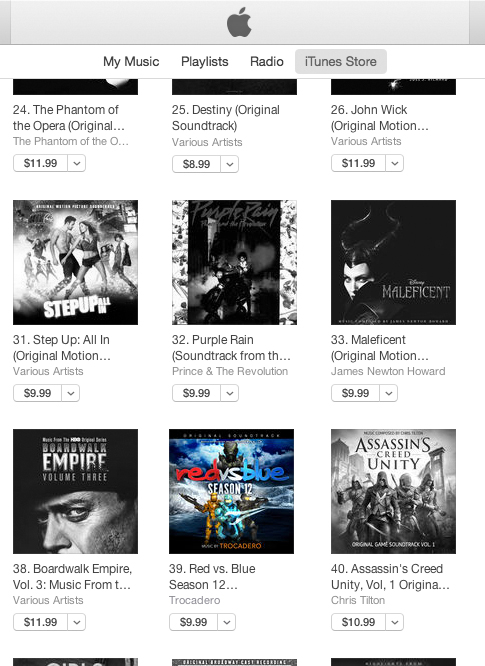 Posted by: nico
---
---
---
30 Oct 2014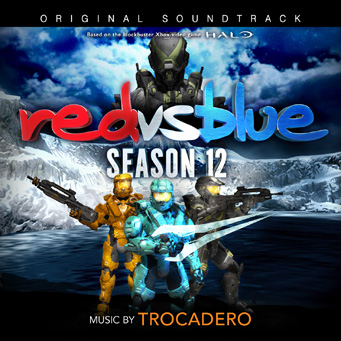 We're delighted to announce the immediate digital availability of the Red vs. Blue Season 12 Soundtrack on:
A CD is in the works and forthcoming before Christmas, but we wanted to get this out to you ASAP.
We'd like to thank everyone at Rooster Teeth, and especially Miles Luna who has had critical involvement in the development of the music for recent seasons of Red vs. Blue.
We'd also like to thank TuneCore -- they've distributed all our music to iTunes etc for many years now. Those fine folks are an invaluable resource to any artist, no matter how unknown (i.e., us), who wish to distribute their music.
Finally, thank YOU, yes you, cool person reading this. Without you, we're just trees falling in an empty forest.
Posted by: nico
---
---
---
04 Jul 2014
Looking forward to seeing you all at RTX this weekend.
There are two events where you can catch me:
1. Music in RvB Seasons 11 and 12 panel, with the lovely Miles Luna and myself. That's on Saturday at 3PM in Room 17.
2. I'll be playing a few songs at the RTX SideQuest Lounge event at Buffalo Billiards (201 E 6th St) on Sunday. I'll go on around 10pm. Not sure if tickets are available, but the venue is 18+
Cheers!
-n
Posted by: nico
---
---
---
03 Nov 2013
Fifteen years ago today, Trocadero played its first show at a small club in Cambridge, MA called T.T. The Bear's Place.
For this anniversary month, we've some special announcements for you here and on http://www.trocadero.net -- the first of which is a soon-to-be-available CD / DVD called When We're Together, which will include footage and audio from our 2012 RTX performance. To give you an idea, here's a preview video of Steady Ride (Gun Metal Green), which originally played over the RvB Season 2 DVD end credits.
Thank you to Rooster Teeth for flying us out to Austin, for filming and editing the show, and for sustaining the weird little brand of music we make.
Thank you to our fans for supporting us. We <3 you.
Posted by: nico
---
---
---
01 Apr 2013
Happy Birthday Rooster Teeth!
Let's see, ten years old, that's like approaching puberty right?
Thank you for everything. <3
Posted by: nico
---
---
---
28 Jan 2013
Rooster Teeth released a cool 10-year retrospective today -- you'll hear some familiar tunes in the background, and the end features a nice montage using Bolt from our latest record, which can be found here.
And here is a link to the RT video 10 Year Retrospective: The original cast of Red vs. Blue reflects back on the last 10 years of the show.
Posted by: nico
---