13 Items tagged 'RTX'
---
05 Jul 2017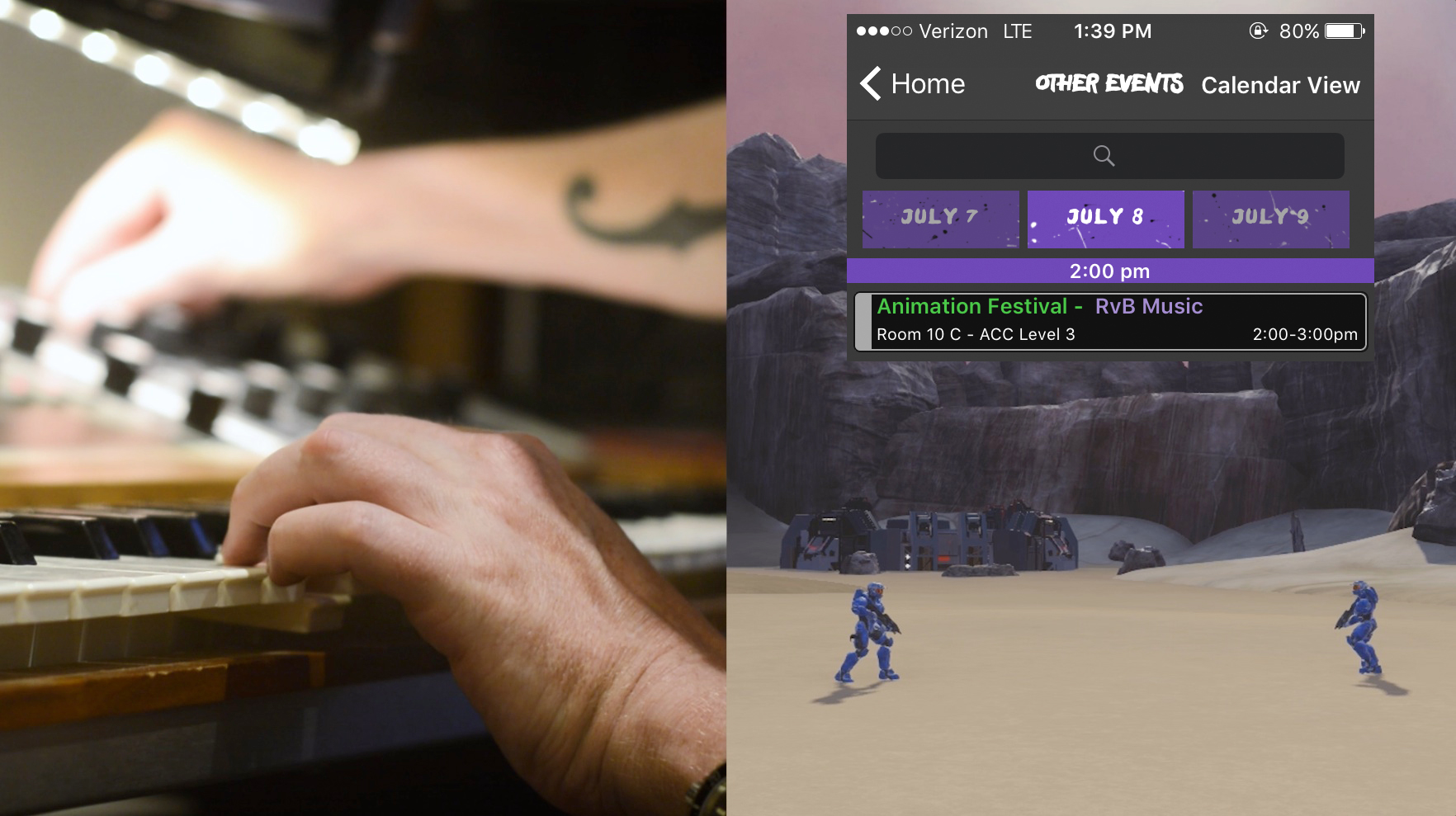 As part of the RTX 2017 Animation Fest, I'm pleased to announce the RvB Music Panel will take place at the Austin Convention Center on Saturday July 8, 2PM in Room 10C.

Please note, this event is NOT listed in the main program -- to access the event from the RTX App, select "other events."
This year's panel is going to be really special: David Levy and I will demonstrate and discuss music we did for RvB, providing insights on how it was written, played, recorded, and arranged, and we'll have some special goodies to show you this year.
We'll be joined by Joe Nicolosi, writer and director of RvB Season 15, to provide a directorial perspective during the Q&A.
This is our sixth year presenting an RvB Music Panel.
We've been getting inquiries if the RvB music panel is happening or not since it's not listed in the main program, so please spread the word, and we'll see you there!
xoxo,
-nico
Posted by: nico
---
---
---
04 Jul 2014
Looking forward to seeing you all at RTX this weekend.
There are two events where you can catch me:
1. Music in RvB Seasons 11 and 12 panel, with the lovely Miles Luna and myself. That's on Saturday at 3PM in Room 17.
2. I'll be playing a few songs at the RTX SideQuest Lounge event at Buffalo Billiards (201 E 6th St) on Sunday. I'll go on around 10pm. Not sure if tickets are available, but the venue is 18+
Cheers!
-n
Posted by: nico
---
---
---
28 Jan 2014
I'm excited to announce the availability of Trocadero's new release When We're Together, which celebrates the band's 15th anniversary and a decade of collaboration with Rooster Teeth.
This CD/DVD combo contains the entire concert we performed at RTX 2012 in both audio (CD) and video (DVD), with a setlist going as far back as Vale Deah (RvB01 end credits) to Bolt (RT 10-year retrospective video.)
In addition to the live songs, the CD contains four bonus studio tracks: Carolina in the Morning from RvB10:E11, Contact from RvB11, and instrumental versions of Colors and Good Fight.
We sweetened the DVD with additional live footage from our first show and other concerts, interviews by Burnie and Matt, and a 10-minute Story of Trocadero video narrated by the handsome Miles Luna.
When We're Together is a CD/DVD combo and is available at the Rooster Teeth Store here -- mp3 downloads are available here
You can preview all tracks by going here
Posted by: nico
---
---
---
03 Nov 2013
Fifteen years ago today, Trocadero played its first show at a small club in Cambridge, MA called T.T. The Bear's Place.
For this anniversary month, we've some special announcements for you here and on http://www.trocadero.net -- the first of which is a soon-to-be-available CD / DVD called When We're Together, which will include footage and audio from our 2012 RTX performance. To give you an idea, here's a preview video of Steady Ride (Gun Metal Green), which originally played over the RvB Season 2 DVD end credits.
Thank you to Rooster Teeth for flying us out to Austin, for filming and editing the show, and for sustaining the weird little brand of music we make.
Thank you to our fans for supporting us. We <3 you.
Posted by: nico
---
---
---
10 Jul 2013
Got pictures from RTX?
I'm looking to both update my personal archives, as well as get some assets for the next revision of the trocadero.net website and who knows what else.
To that end: could you kindly please look through all your old camera rolls and see if you have any pictures of the band whose raw files you'd be willing to upload -- these can go as far back as early RvBTOs etc etc.
Please send a message if you do! I'll also need your real name in case we use the pictures so we can provide you with proper credit.
Thank you <3
Posted by: nico
---
---
---
02 Jul 2013
I'm thinking of bringing a few Trocadero hats to RTX if there's enough interest.
They're 100% cotton, including rear adjust strap, one size fits most, logo on front. 20 bucks. Sorry about the awful picture.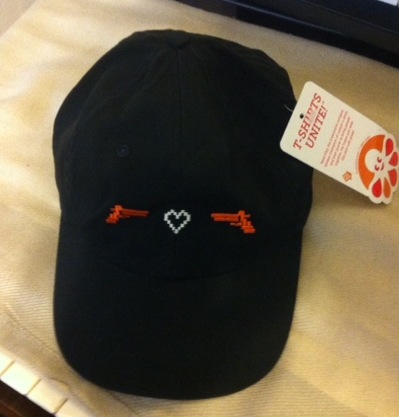 These aren't available anywhere.
Posted by: nico
---
---
---
26 Jun 2013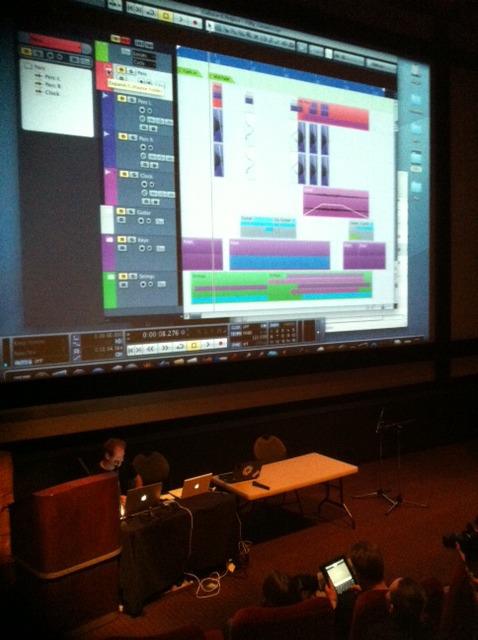 Trocadero | RvB music presentation at RTX!
I'm very excited to be doing a presentation at RTX this year! Click here if you think you'll attend! (Any relevant announcements will be posted there.)
When: Saturday, July 6, at 2:30 PM
Where: Room 16
What: Multitrack presentation of Red vs Blue music.
If a song is like a person, imagine having that person take you home, and show you what's in their underwear and sock drawer. According to people who have seen me do this at CanWest, it's more fun that it sounds. [EDIT: No, not MY sock drawer, the song's]
Are there any Trocadero | RvB songs you'd like me to talk about in particular?
Posted by: nico
---
---
---
05 Dec 2012
New Trocadero shirts available for sale at the Rooster Teeth Store!
These shirts were created for RTX -- the orange and white designs are printed on quality dark grey Anvil cotton T-shirts. They're lightweight, durable, and should compete with your favorite 16,384 thread count Egyptian cotton sheets for comfort.
The design features Luke McKay's rendition of a 1950s US Air Force K-1 High Altitude Partial Pressure Helmet.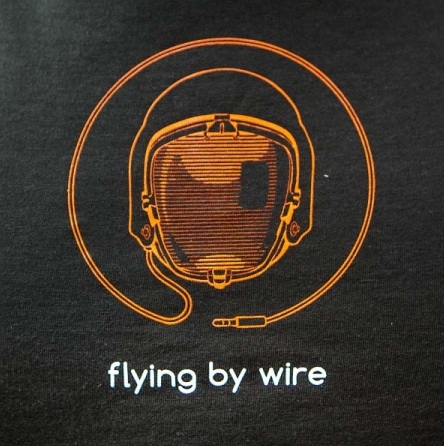 It's the same helmet that's on the cover of Flying By Wire in Art Kane's beautiful 1960 photograph.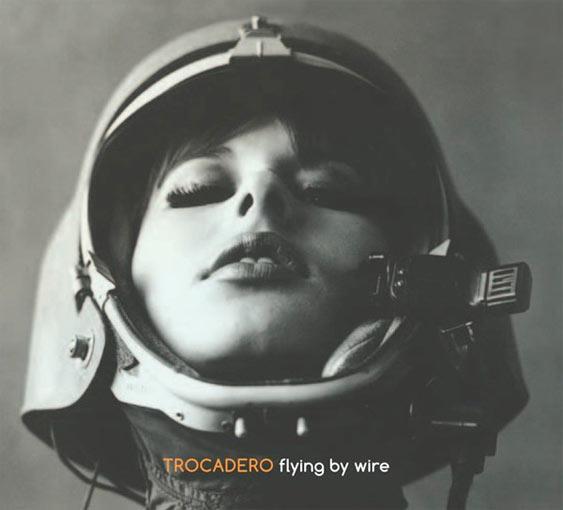 Photo (c) 1960-62 by Art Kane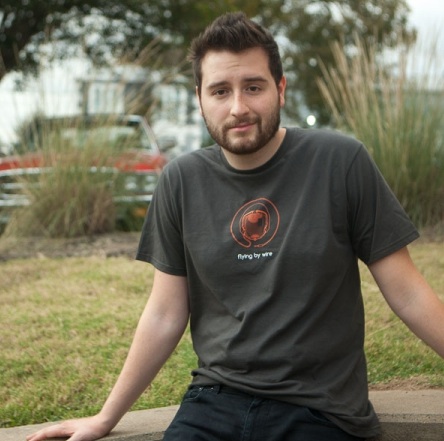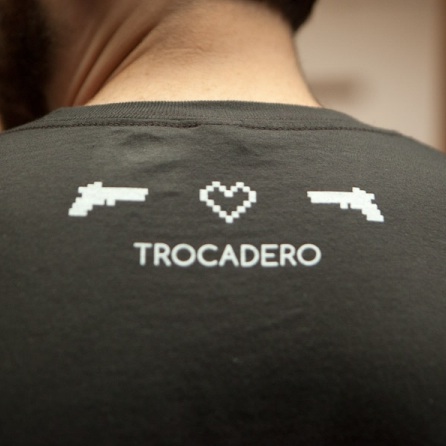 Sexy model: Miles Luna.
T-Shirt Photo Credit: Brian Behm.
---
---
---
21 Jul 2012
WTB: RTX Trocadero show audio
If you saw the Trocadero performance at RTX and recorded it in its entirety on any kind of device, I would like to hear from you.
I'm not looking for video, just audio that was recorded within the crowd. This is so that, in the event we release a live recording, we can have the option for more "ambient" / "crowd" audio.
Thanks!
Posted by: nico
---
---
---
12 Jul 2012
Flying By Wire is now up on iTunes as well as the RT Store. We've also added clips and lyrics to trocadero.net in the Music section.
I realize that only a small percentage of people from the site actually went to RTX so I'll keep it short:
The Guardians as well as the attendees were awesome -- I know some of the lines were a little long, but people were really cool about everything. Guardians, you earned your shirts for sure.
It was awesome to run into old and new friends. I wish I had been able to spend more time with everyone, and I am grateful for the time I did get to spend with friends. (Dr Jones, dinner in Toronto.)
RT, you are the greatest company in the world.
People who listened to us on Saturday night, thank you <3
The most number of people we've ever played for is maybe 150... to go from that to 1000+ is pretty terrifying, but you guys and gals were awesome and nice and forgiving.
We hope you enjoyed the Trocadero rehearsal.
Posted by: nico
---
---
---
02 Jul 2012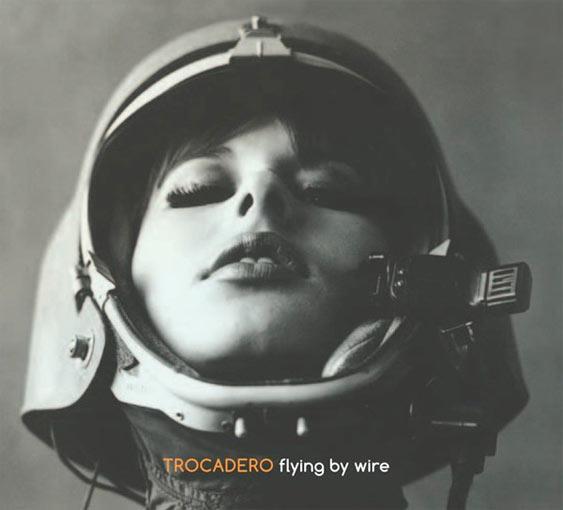 Flying By Wire, Trocadero's third full-length album, will be released on July 7 2012. The album features sixteen songs of new and unreleased music, four of which appeared in RvB Seasons 3-9. 

We'll also be performing at RTX on July 7 at 8PM at the Austin, TX, Convention Center.


Photo (c) 1960-62 by Art Kane, http://www.artkane.com/

Posted by: nico
---
---
---
21 Jun 2012
Preview #1
As sort of a countdown to RTX, I thought I would start releasing little previews of some of the songs off of our forthcoming album Flying By Wire.
I am not picking these songs in any order. The next one will have a little video to go along. But you gotta start somewhere, and so I picked one of the weirder songs on the record, but with a bit of a story:
A few years ago, I went with Gus and Esther to Sydney and Auckland. While in Auckland, I went to used CD stores foraging for local stuff. One of the CDs I bought was a compilation of field recordings from rural parts of Southern China released on this awesome NZ record label called Ode Records. (I am a field-recording junkie.)
I completely fell in love with a solo mouth harp piece, and wrote the president of Ode Records who generously gave me permission to use the sample Trocadero record.
I really wanted to get in touch, or even just to know the name of this guy who did this 4-minute long mouth harp piece that was so beautiful and inspiring, but no one seemed to know his name.
Oh, right, the preview: Dancing Bull. So this track starts off with the sample (I've included a little of it in the preview), and what follows is Violet, our new keyboardist/guitarist/singer, listening to the field recording, and then playing it on guitar.
The title of the song, Dancing Bull, comes from the other featured instrument, the venerable Moog Taurus I pedals.
Posted by: nico
---
---
---
09 Jul 2011
We just got back from RTX, and we got sick as hell -- not from booze, but like a cold / flu. I sound like Barry White, which reminds me I should record my voice right now.
Thank you to all of you who made it there.
I can't begin to tell you how amazing it is to have someone you've never met before say "hey, I liked this song," or "what software do you use," or "hey, I see you have a black pass, what do you do?"
Martha and I had so many heartfelt conversations with people we'd never met or known from the site that we were humbled at the proportions of the growth that this community, this empire of goodness, has experienced since I first joined, as a fan, in 2003.
I've said this before, but if no one listens to a piece of music, does that music really exist at all?
So thank you, you, people that I know, or don't know, or just met, for the greatest gift you can give to someone who likes to make music: your ears, and your hearts. (Your booze is just extra icing, and getting tossed in the pool extra extra icing.)
And thank you, Rooster Teeth, The Greatest Company in the World™ for creating this empire of goodness.
/NyQuil time
P.S. Martha, you sounded awesome.
Posted by: nico
---